Hey guys! During this quarantine, I decided that I wanted to do some fun styling sessions for you guys to help you find new ways to style the clothes you already have in your closet. For this styling session, I came up with 7 different outfits that you can create with a bodysuit.
Outfit #1: I just paired this long-sleeve striped, pastel colored bodysuit from Pink Lily Boutique with my favorite pair of dark wash flare denim from the Mint Julep Boutique. You can honestly never go wrong with jeans and a bodysuit! For shoes, I recommend wearing some booties or some wedges with this outfit to dress it up for spring and summer. However, you can easily dress it down with some cute sneakers, depending on the length of your flare jeans because mine almost touch the ground so a small heel is perfect for me! Just something to keep in mind! Both my bodysuit and flare denim fit true to size, so I'm a small in the bodysuit and size 4/6 in the jeans!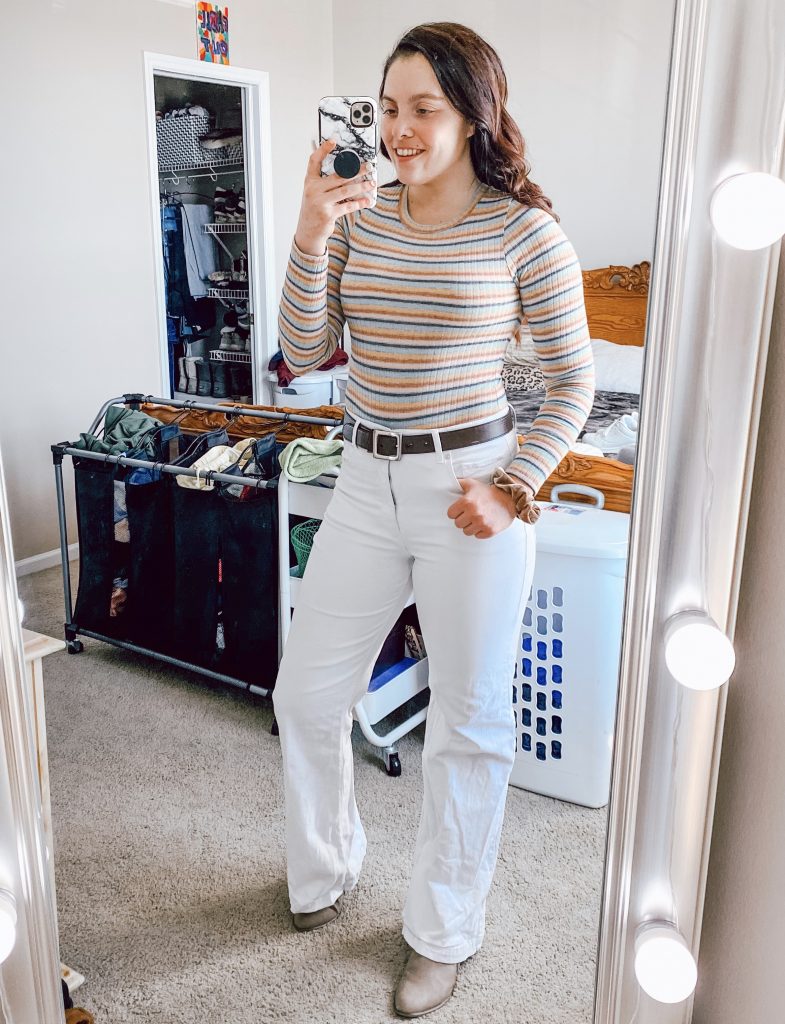 Alright, outfit #2 here has the same long-sleeve bodysuit but I paired it with some white denim from Discount Fashion Warehouse. I love how bright this outfit is, and it will definitely make you stand out in a crowd 🙂 I paired it again with some neutral colored booties, but you could pair this outfit with wedges or some cute sneakers. If I were to dress it down with sneakers, I would wear a neutral colored shoes like tan, brown, or white, just so the bright colors still pop up top. I also accessorized this outfit with a brown belt, but if I had a Gucci or Louis Vuitton belt, you can bet your booty that would be my number 1 choice ha-ha!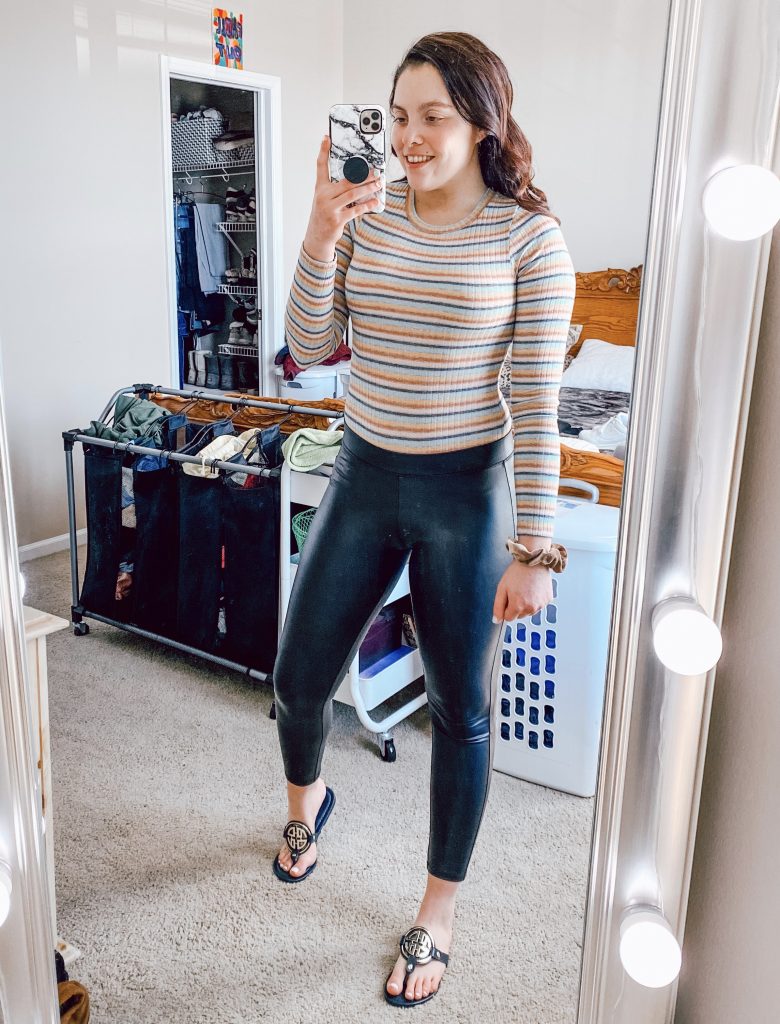 Outfit #3: I was going for a more comfortable approach. A bodysuit and some spanx leggings (or regular leggings) are perfect for running around town getting your errands done, getting stuff done around the house, playing with the kiddos, etc. You can pair it with some cute sandals or flip flops like I did, or you can even pair it with some cute, white tennis shoes! Just something simple and easy to throw on! My spanx leggings are from the Mint Julep Boutique and they fit true to size, size small!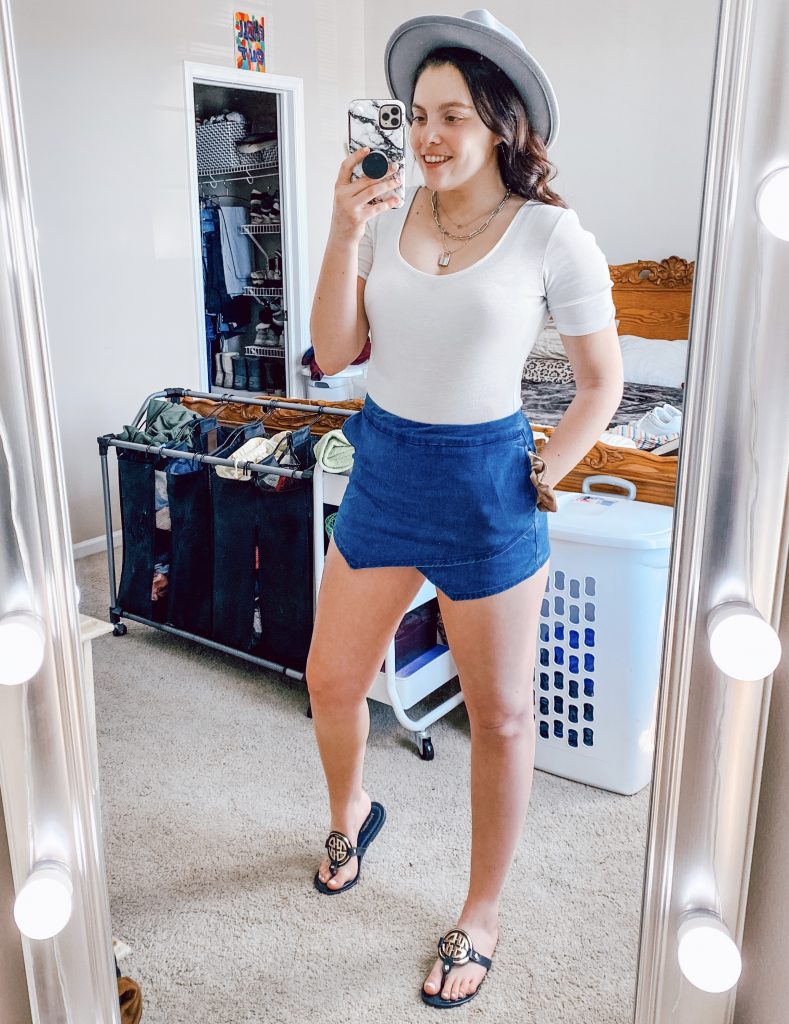 Alright! Let's switch it up a little bit. Outfit #4 has this white, short-sleeve bodysuit from Dottie Couture, who I actually have a 20% discount code with that you can use on your purchase, just navigate to the shop tab and click 'Shop my Dottie Couture'. It is so comfortable and fits true to size, I'm wearing a size small. I was going for more of a summer vibe with this outfit and this skort from Pink Lily is so stinkin' cute with this bodysuit, and perfect for summer. I then just paired it with this super cute $9 layered necklace, Tory Burch Miller dupe sandals, and my favorite hat all from Amazon. You can honestly pair this outfit with any color sandals. It would look super cute with a pop of color!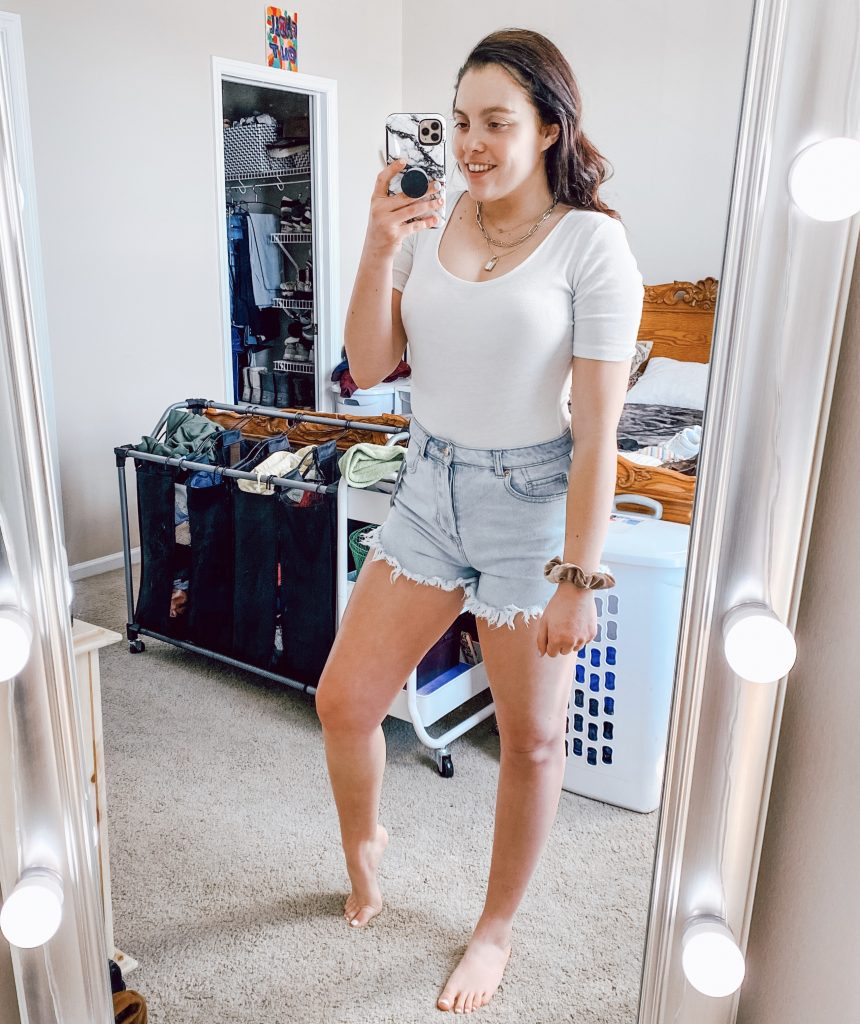 Outfit #5 is similar to the one above, but with light wash denim shorts I got from Target. I LOVE the frayed detailing on the bottom and these shorts give great booty coverage as well. I didn't pair it with any shoes because you can literally wear ANYTHING with this look. Also, I would be wearing this outfit on the beach, so no shoes would be necessary ha-ha!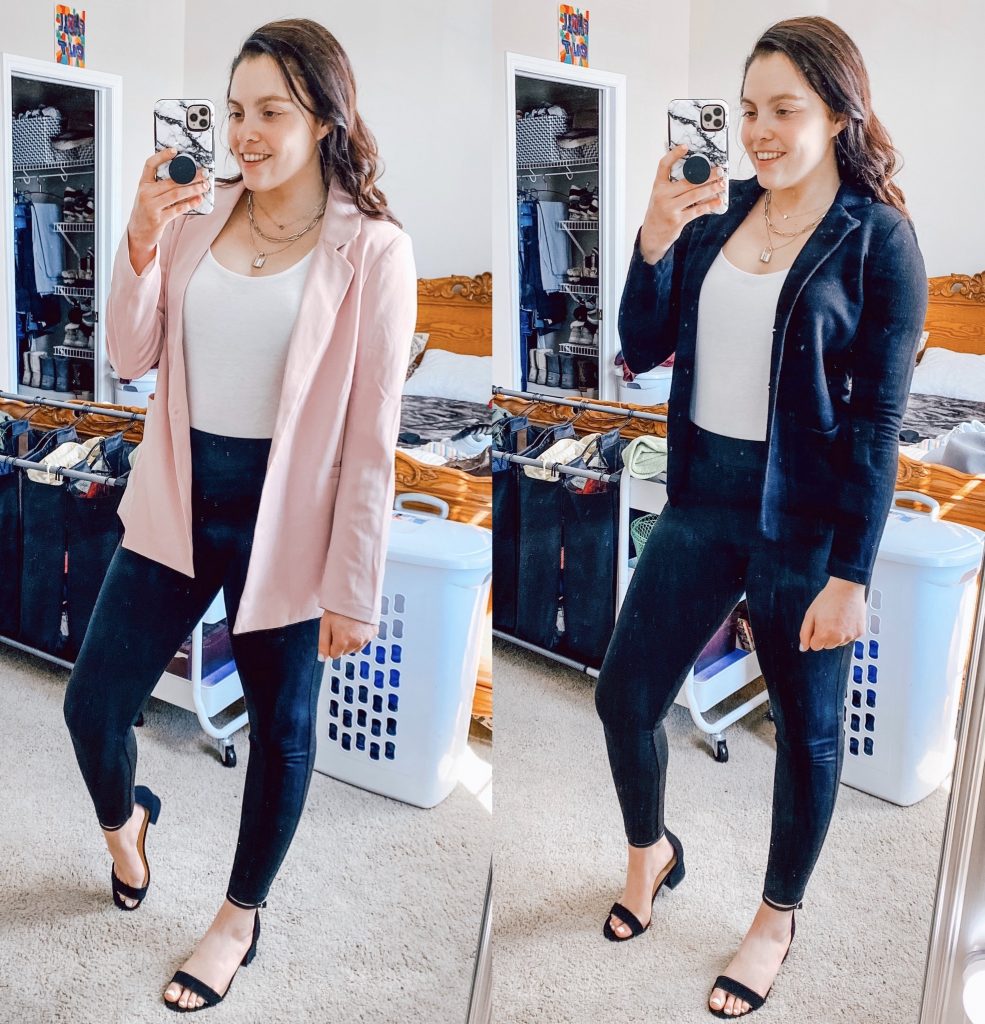 Outfit #6 is for all my hard-working office ladies out there! Don't worry, I didn't forget about ya! It's the same short-sleeve bodysuit but I just paired it with some black dress pants from Express and this super cute baby pink blazer from Dottie Couture. I freaking love blazers because they can make your outfit look so chic and classy, and they can even be dressed down with some cute denim shorts. My next styling session can be blazers if you guys want, but anyhow, if you aren't really looking for a pop of color with your dress clothes, you can always pair your outfit with a black blazer instead. Either way, both are super cute, chic, and professional!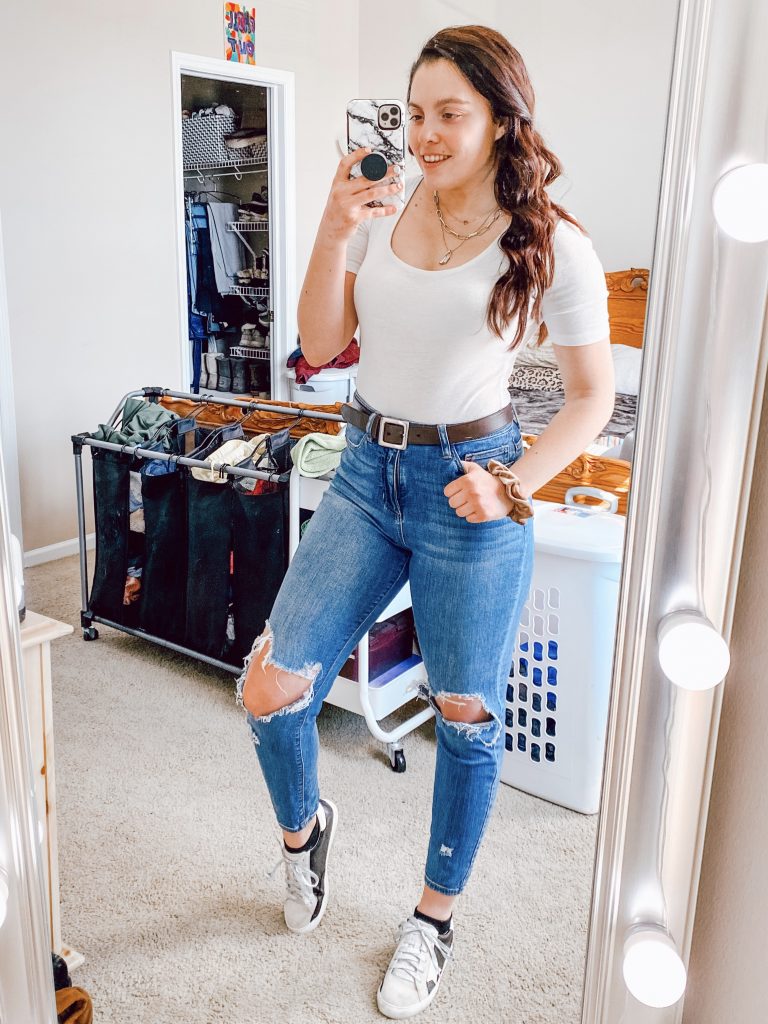 We made it to outfit #7 which is my favorite! Just a simple, basic outfit with a bodysuit, skinny jeans, and tennis shoes. For anyone who knows me, I have the most casual, laidback style so anything simple and easy to put together, that's what I gravitate towards the most. These high-rise skinny jeans are from Forever 21 and I absolutely love the knee-hole detailing and the comfort of them. My tennis shoes are Golden Goose dupes from Red Dress Boutique, and they come in so many different colors! There is honestly no right or wrong with this outfit because it can be paired with ANYTHING and EVERYTHING!
I hope you guys liked this little styling session! Leave me a comment below or message me on Instagram or Facebook for what piece you want me to style next. I will be more than happy to put together different combinations for you guys! As always, you can shop all of my looks in LiketoKnow.it, just click the LiketoKnow.it icon in the top left corner of the screen! Until next time! 🙂