I know it's been a hot minute since I've shared my monthly Amazon finds with you all but we are back in action for 2021. For this round, I've decided to include the remaining Amazon finds that I didn't share on here from 2020, as well as this month's Amazon finds, that way we are all caught up.
Black Over-the-Knee Boots: these are the same boots as the camel colored ones I bought last month. I got my true size (size 7.5). 
White & Leopard Print Sweater: super cute color-blocking detail with the leopard print in the middle. This sweater also comes in different styles, meaning that they have the color-blocking vertically or diagonally, etc., with different colors. I got a size medium for reference.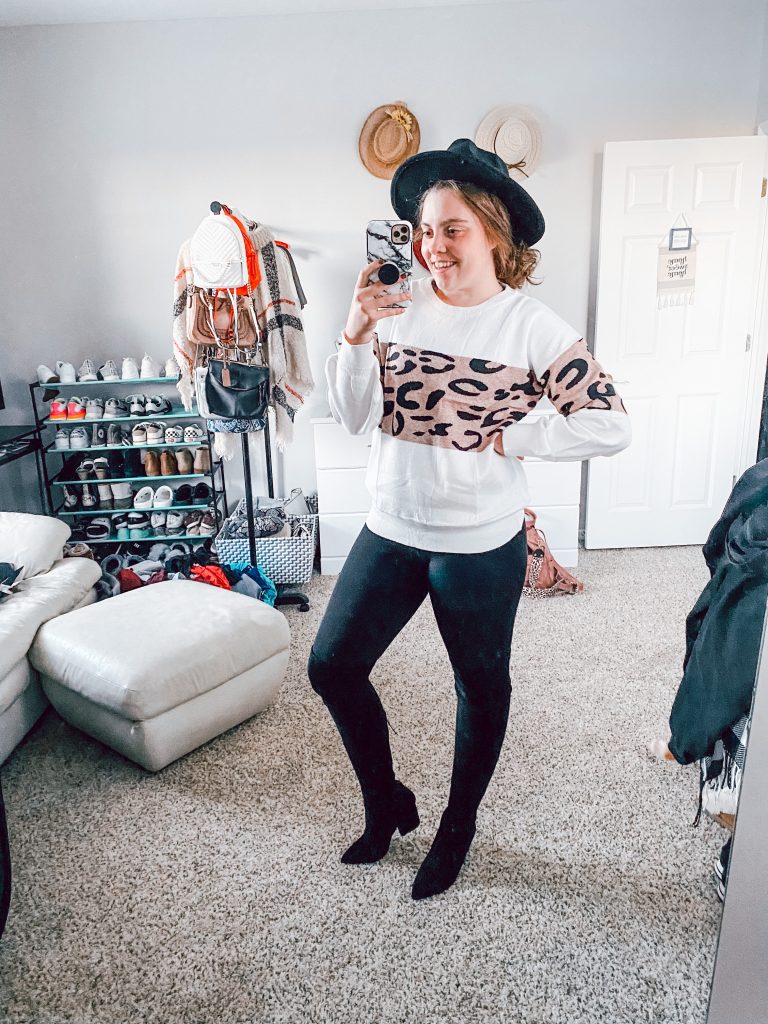 E.L.F Toner: I have used and loved the original toner they have but I wanted to give this one a try to compare the two and see which one I like more.
Blackhead Remover Vacuum: I have heard so so so many great things about this blackhead remover vacuum. For me, I've always used the Biore strips and I like them, don't get me wrong, but I hate how they don't come with that many in a pack. This vacuum, I'll only have to charge it, which will be so nice! Also, I like how it comes with different head pieces to fit each and every person that buys one. The best part is that it's pretty affordable, and there are so many great reviews.
The Ordinary Peeling Solution Face Drops: these drops act as a face mask. You put a few drops on your face, rub it all over, and let it sit for about 10 minutes or so. After that, just rinse it off. The drops are as red as the color of blood, which is so crazy, haha!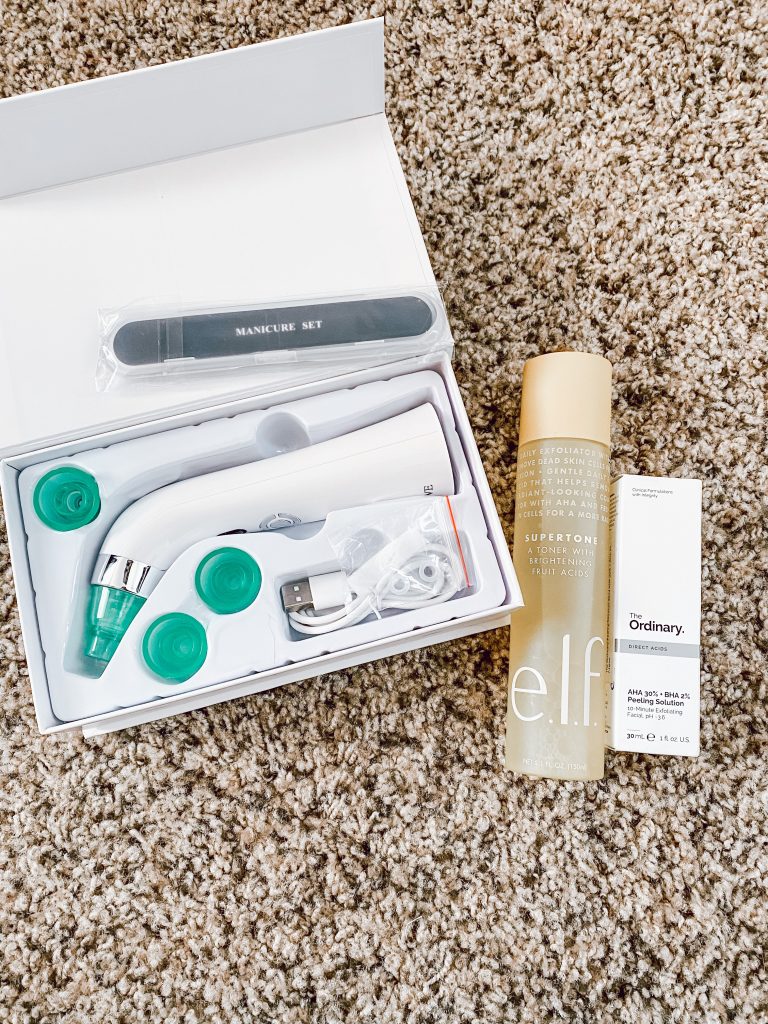 Rustic, Wooden Tissue Box: I don't know about you but I HATE the look of just a regular ole tissue box sitting on the counter or on the toilet because it just doesn't look good and doesn't really match anything. That's why I got this one because it matches the decor I have going on in here.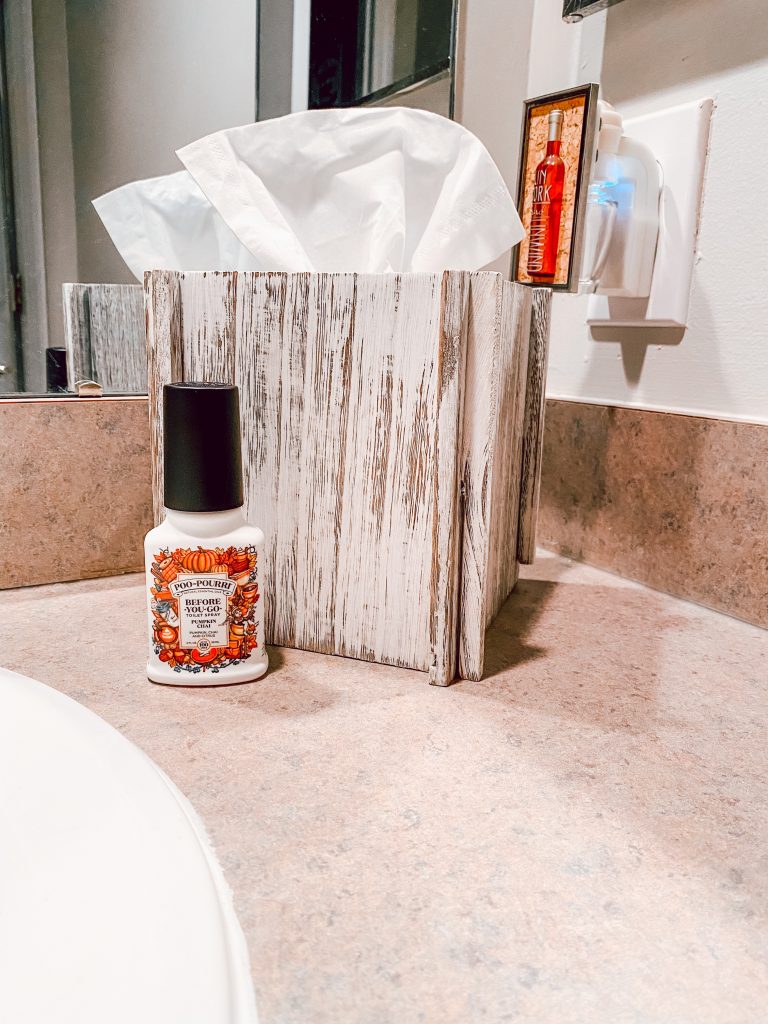 Apple Bitter, No Chew Spray: As you guys know from Instagram stories, my cat Dexter has been a little punk lately with chewing and breaking our cords. This week, he chewed through our HDMI cord which is the main cord for us to watch TV since we use an Apple TV. Thankfully we had a back cord, but we are tired of having to replace our cords. So, we decided to get this spray to help prevent him from chewing on anymore cords.
E.L.F Hydrating Water Cleansing Wipes: These are the facial wipes both Dalton and I use when we are feeling lazy and don't want to do our full skincare routine and just want something to little get the dirt and excess oil off our skin. They are super gentle, have no fragrance, and are super affordable. Comes with 20 wipes in a pack.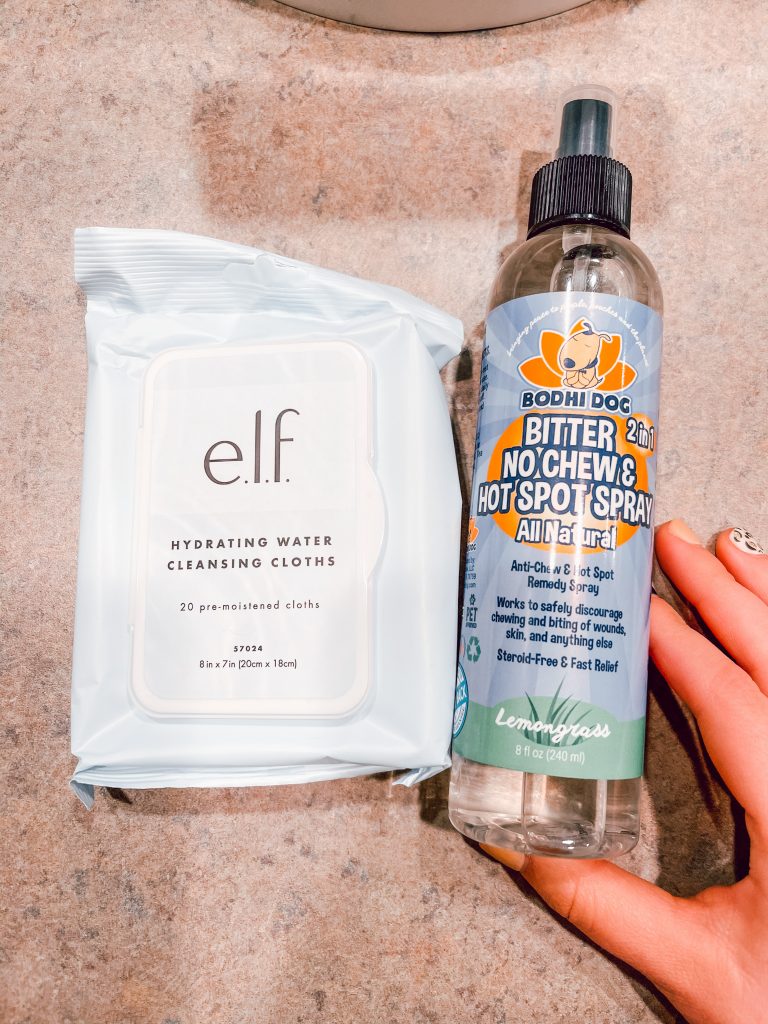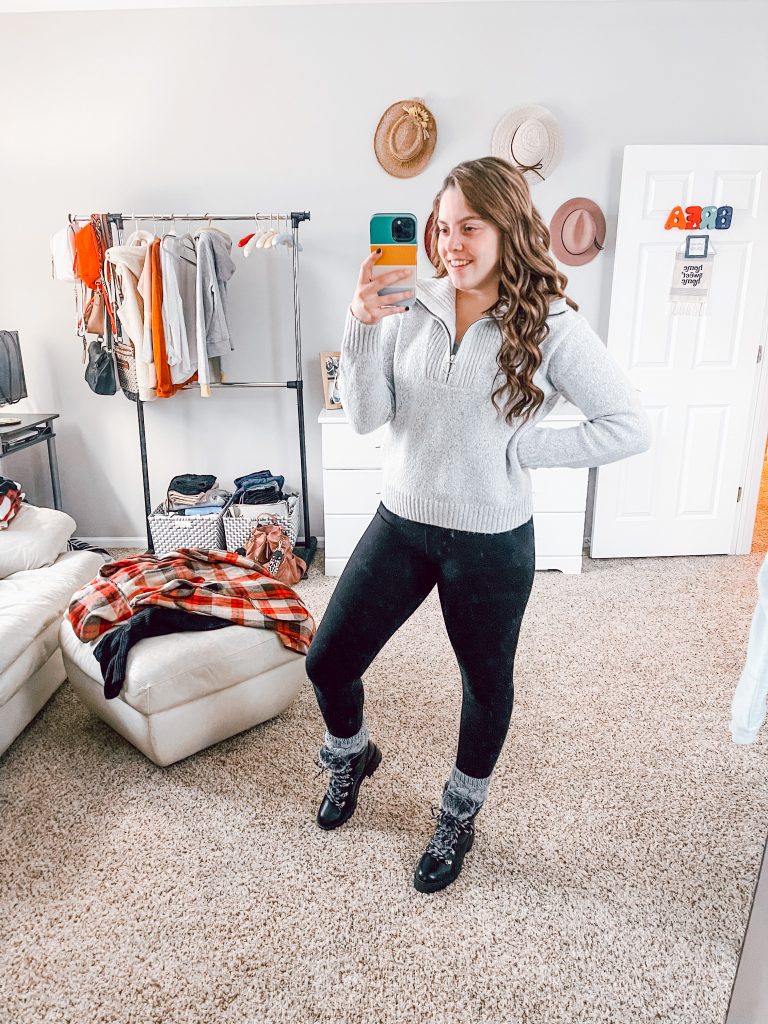 White & Black Buffalo Plaid Blanket Scarf: this scarf is so perfect for fall/winter. It is super warm and so versatile, meaning you can pair it with so so so many different pieces and style it so many different ways. These are 3 ways I would style it.
Christmas Pillow Covers: For Christmas, I wanted my theme to be white and gold and I thought these pillow covers were PERFECT! It was exactly what I was looking for.
Upholstered Platform Bed Frame: We have been on the hunt for a new bed frame for over a year now because we just didn't really care for the one we had but my moms boyfriend was gracious enough to let us use it until we got our own, so thanks Joe 🙂
50 pair Shoe Rack: One Saturday morning, I went to my blog room to get ready for the day and my shoe rack I've had since college broke because I had too many pairs of shoes it on that the weight just made it crumble. It holds 36 pairs of shoes and I just have wayyyyy more than that lol. This new one is great. I love that it matches my home decor I have right now and I love the fact it has the cabinet door feel, if you will. The cabinet doors come in 2 different colors: the white (which I have) and clear. I was really debating on which ones I want to go with but I don't think I want my shoes to be visible so that's why I chose white.
Mesh Laundry Bags: these come in multiple sizes and different set sizes. They have a set of 3, 5, and 7. I got the set of 5 and I plan to use them so that I can wash my face masks in the washer without them getting ruined.
Old Fashioned Whiskey Glasses: Dalton's birthday was this month and he treated himself to some new whiskey glasses. He has been really loving old fashions and manhattans and he wanted to have the proper glass. This would be a perfect Christmas gift for your husband, dad, brother, etc.
Steering Wheel Cover: In every car I've had, I've ALWAYS had a steering wheel cover, not sure why, just a personal preference I suppose. I finally decided to get a new one because the one I had was getting old, turning gray from black, and the plastic pieces were starting to peel away. I found this one and I think it's super cute, without being over-the-top. It comes in a few other colors as well.
Cereal Bowls: We've had the same green, blue, orange, and baby blue bowls since our college years and we finally decided it was time to get some new ones. I absolutely love the color of these ones and they are very lightweight. Comes in a set of 4!
L'Oreal Paris Elvive 8 Second Wonder Water: Y'all! This stuff is the bomb and super affordable. It makes your hair soo silky smooth in just 8 seconds. I actually replaced my conditioner with this stuff. Now, if I want some extra softness to my hair, I'll use a little bit but I mainly just use the wonder water.
Door Draft Stopper: Our front door is not level with the door frame so there was a draft that was always coming in, In the summer, it was okay because it was always warm, however, once winter hit, it got real cold, real quick. I couldn't even walk downstairs barefooted anymore because the draft coming in was just so dang cold, and still kind of is but not as horrible. The best part is that it's just an adhesive sticker so it shouldn't ruin the door if it were to be removed.
And that is it for the end of my 2020 and January 2021 Amazon finds. I'm so sorry it was so long but if you made it all the way to this point, thank you so much for your support. Hopefully y'all found something you liked and I will make sure to continue to share these each month so that we don't run into these long blog posts again, haha! I'm looking forward to what I will find in February! Stay tuned! 🙂