Hey hey hey! Summer is just around the corner so let's talk swimwear 🙂 Back track to my childhood, I grew up in two-piece swimsuits just because that's what I liked, and that's what I was put in (when I was a tiny tot of course ha-ha) and I never really cared for one-piece suits. Last year, I decided I wanted to step out of my comfort zone and try something different and find a cute one-piece since it was very trendy, and I figured why not! I had no idea where I wanted to go since I always referred to Kohl's for all of my suits. I texted my friend one day for some of her suggestions and she immediately replied with Discount Fashion Warehouse. Discount Fashion Warehouse has lots of name-brand items for a large discounted price. We went into the swimwear section and I wasn't really finding anything that really stood out to me until I came across one that was the last one of its kind on the rack. I love the uniqueness of it.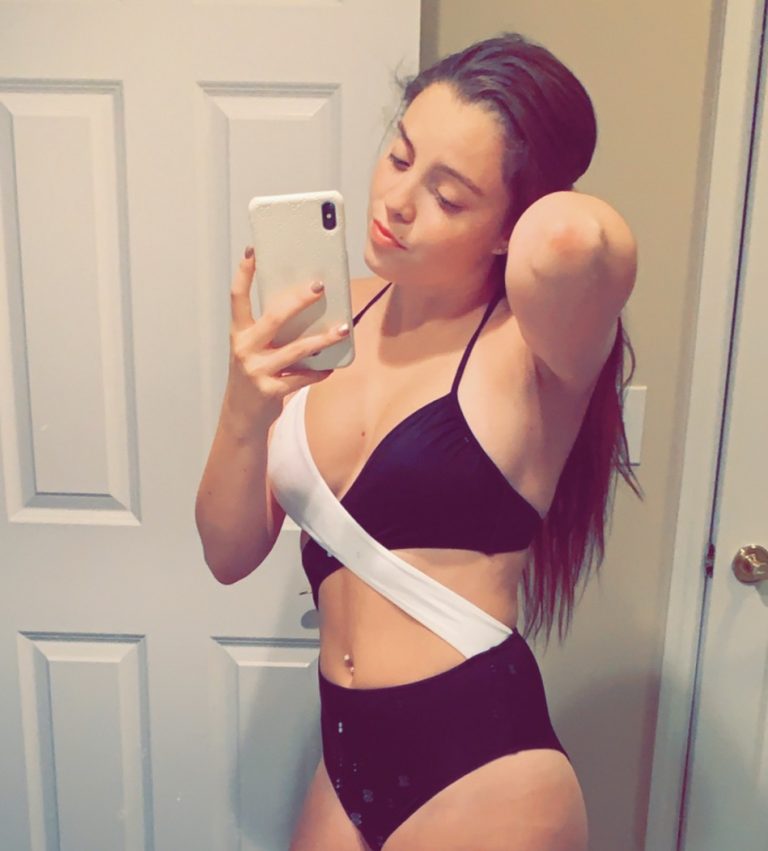 My favorite part of this suit is the crisscross detailing in the front and I just think black and white is so chic. The downfall of this suit was that it didn't have a price tag it, but I figured I could still take it up to the register, just in case they had another one in the back somewhere. I got up there and explained my situation and the cashier said that everything out in the store is all they have but she proceeded to ask me if five bucks for the suit would suffice. I did a double take like what?! I was like SOLD 🙂
Fast forward to this year, I wanted to have both one-piece and two-piece suit options, so I had searching around on other bloggers' stories to see where they've been looking to get some ideas, and I don't know why I didn't think of Amazon sooner! Amazon is my jam and I don't know about y'all, but Amazon has been killing it with swimwear this year. I did a try-on session not too long ago of my favorite Amazon swimsuits and y'all, each suit I picked up were under 30 bucks! Under 30 freaking bucks!! Honestly can't beat that and it's perfect if you are someone like me who wants to have different options for when you want to wear a different suit each time you go to the pool or the beach for an affordable price!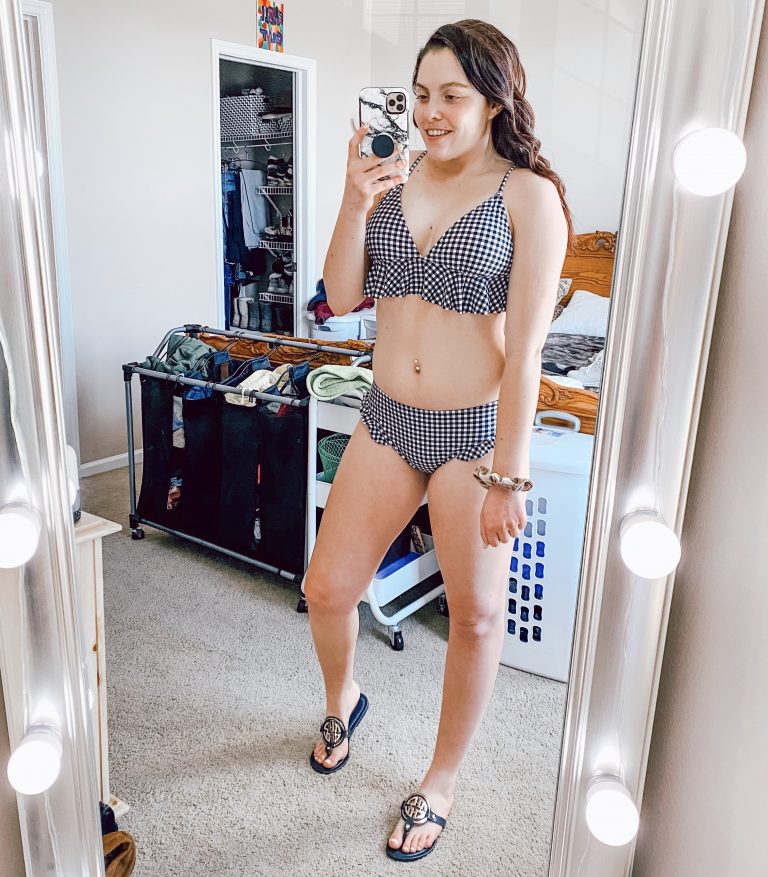 This two-piece, gingham print suit with the ruffle detailing on the top and bottoms is freaking adorable. As you can see, the bottoms are not high-rise so just keep that in mind in case you were wanting high-rise bottoms. The straps are adjustable so you can make the top as tight or as loose as your heart desires. The top does come with removable padding in case you do or don't want them in there (padding is a must for me). The bottoms give great booty coverage, and not too cheeky. It does fit true to size, and I am wearing a size medium.
This one-piece suit is so different and unique, and I especially love the mauve color. The one-strap detailing is super cute, and the cut-out on the side is so flattering as well. It also comes with removable padding for anyone who isn't the biggest fan of padding. If you're looking for full booty coverage, this suit is calling your name. Benefits of full booty coverage: perfect for riding down the waterslides and running around with the kiddos at the beach. I just love how it hugs in all the right places. It does fit true to size, and I am wearing a size medium.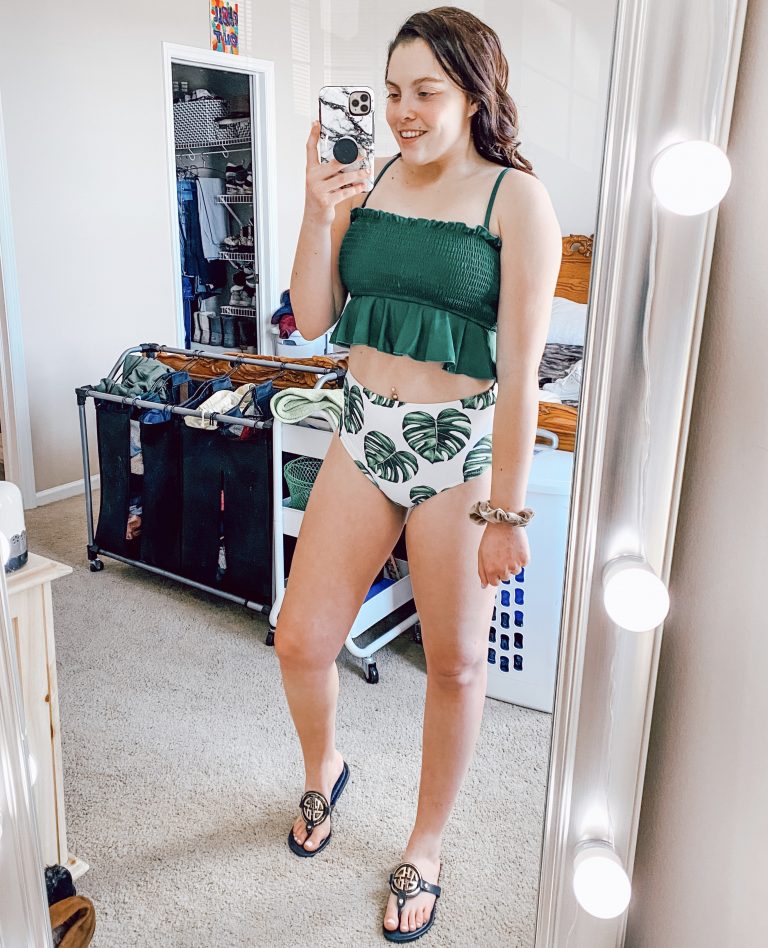 I couldn't pass this one up because green is my absolute favorite color, and come to find out, this suit is actually Dalton's favorite out of the ones I picked up. This top has a smocked detailing so it's nice and stretchy, and VERY comfortable. I also think the little ruffle detailing around the bottom of the top is just too stinkin' cute. The top comes with adjustable straps so you can make this as tight or as loose as desired, and not only are they adjustable but they are also removable! I always have to have straps on my swimsuits just because I hate having to adjust it since I am usually very active at waterparks or at the beach. I am absolutely in love with the print of the bottoms, like I don't know why but they remind me of Hawaii. Also, the bottoms are high-rise for anyone who prefers high-rise over mid-rise. Again, fits true to size and I'm wearing a size medium.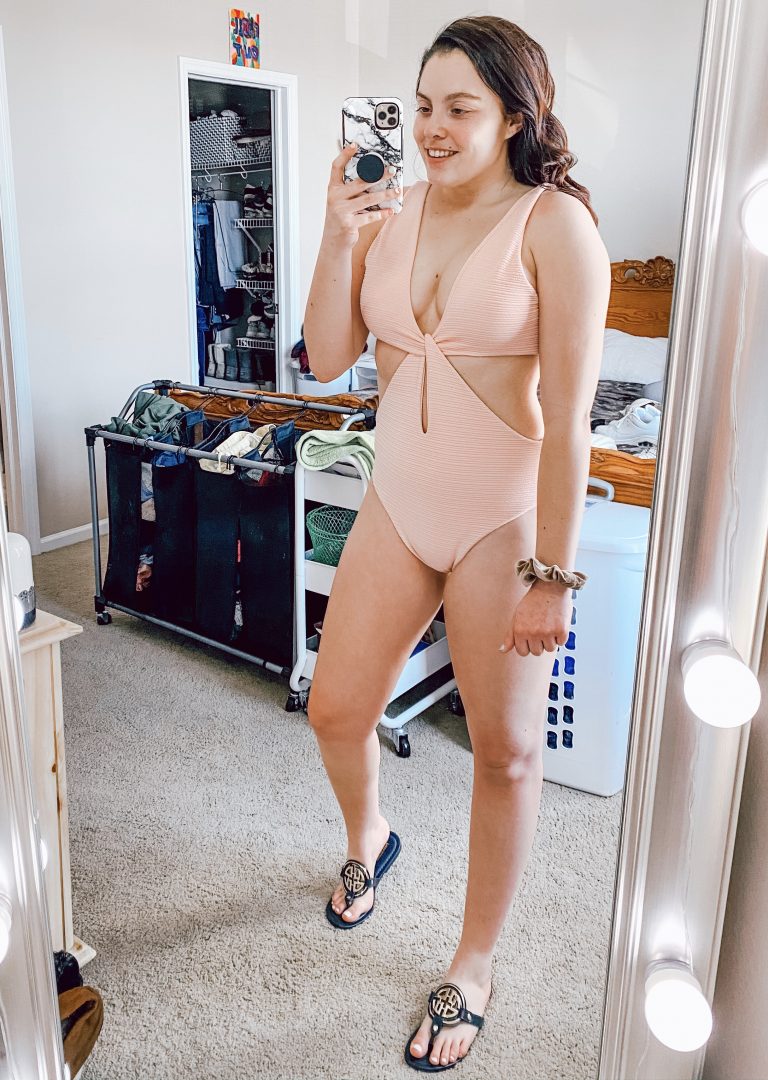 NOW THIS ONE IS MY FAVORITE ONE I PICKED UP! The baby pink color is just so freaking pretty, and this is actually a two-piece suit that connects in the middle to make it a one-piece suit. How cool is that! I didn't figure this out until the top came undone from the bottoms one day and I was freaking out because I didn't know how to put it back together ha-ha! Now I will say, this suit is more on the cheekier side, so this is not the suit for you if you want full booty coverage. Again, the padding is removable if padding is not desired, and fits true to size!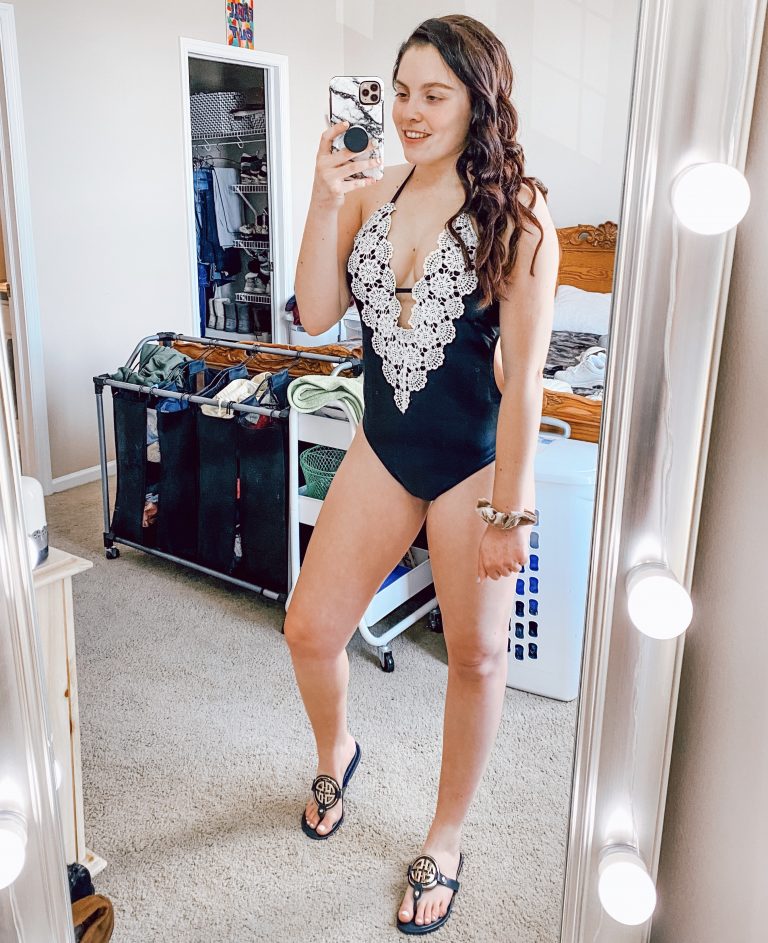 This last suit I picked up has such a beautiful lace detail in the front with the V shape. This suit has two ties: one about mid-back and one up on the neck. I also love how completely open it is in the back, just a cute and different option. This suit does have great booty coverage so no need to worry about anything from behind. This suit does come in a bunch of different colors and prints so there is something for everyone! I was torn between this one and the striped one with black lace detailing, but I might end up snagging that stripe one too! It fits true to size, and I'm wearing a size medium!
I hope you all liked all of these pieces and found something that's best suited for you! My goal was to find a suit that had a different style that could work for anyone and everyone! Which suit is your favorite? You can shop these suits in the shop tab, either from my Instagram or LiketoKnow.it! Leave me a comment or tag me on Instagram if you end up grabbing one of these suits, I would love to see it and hear your thoughts!