What's up guys! With summer around the corner, a lot of us are planning some fun-filled vacations with our friends and family since we have been cooped up in our homes for the past year and we are ready to get back to exploring the world. Today on the blog, I wanted to share some of my little tips and tricks on how I pack for vacation, and what exactly I'm going to bring along with me for my upcoming trips.
I have a couple trips planned for the summer and 1 planned for the fall, and I'm so freaking pumped! The first one is actually this weekend and we're going to be at Kalahari. Since it's only a weekend long trip, I won't be packing too heavy like I normally do, but, knowing me, I'm still going to overpack because I love having multiple options lol.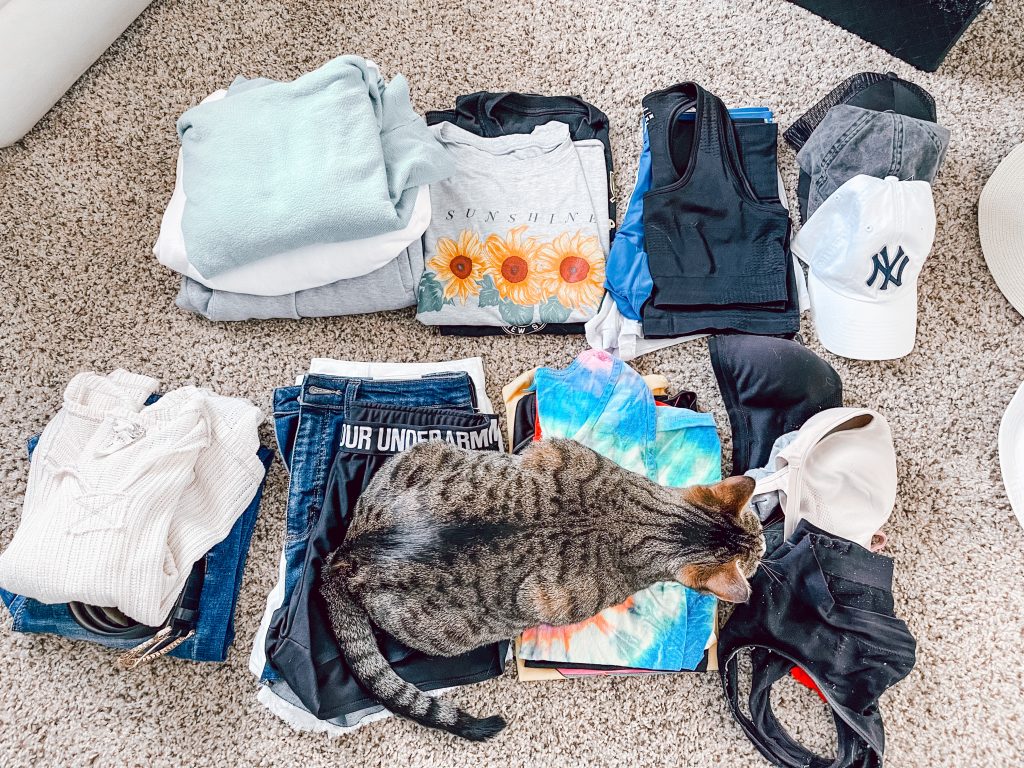 The biggest tip I can give you is to count the number of days and the number of nights that you will be out of town. For example, for this Kalahari trip, I will be staying there for 2 nights and 3 days, so I know I will need 2 nights worth of pajamas, and 3 days worth of actual outfits. If you are trying to not over pack, be strict on yourself and pack 1 outfit for each day of your trip. If you're like me, you'll pack 3-4 different pairs of shorts or pants (depending on where you go) that are more neutral so that you can pair them a multitude of different colored tops.
I'll put it into perspective for you. I packed denim shorts, white denim shorts, and a black pair of athletic shorts. Since my bottoms are all neutral, I can pair them with just about anything, colored tops, neutral tops, etc. I also packed 3 neutral-colored hats so that I can wear whatever hat I want and it will pair with any outfit. Shoes, same thing! I packed sandals for the waterpark and a white pair of shoes for walking around and such, which again, matches everything!
Basically, the moral of this blog post is to pack some neutrals so that you can pair your colorful pieces and so you can save yourself from overpacking.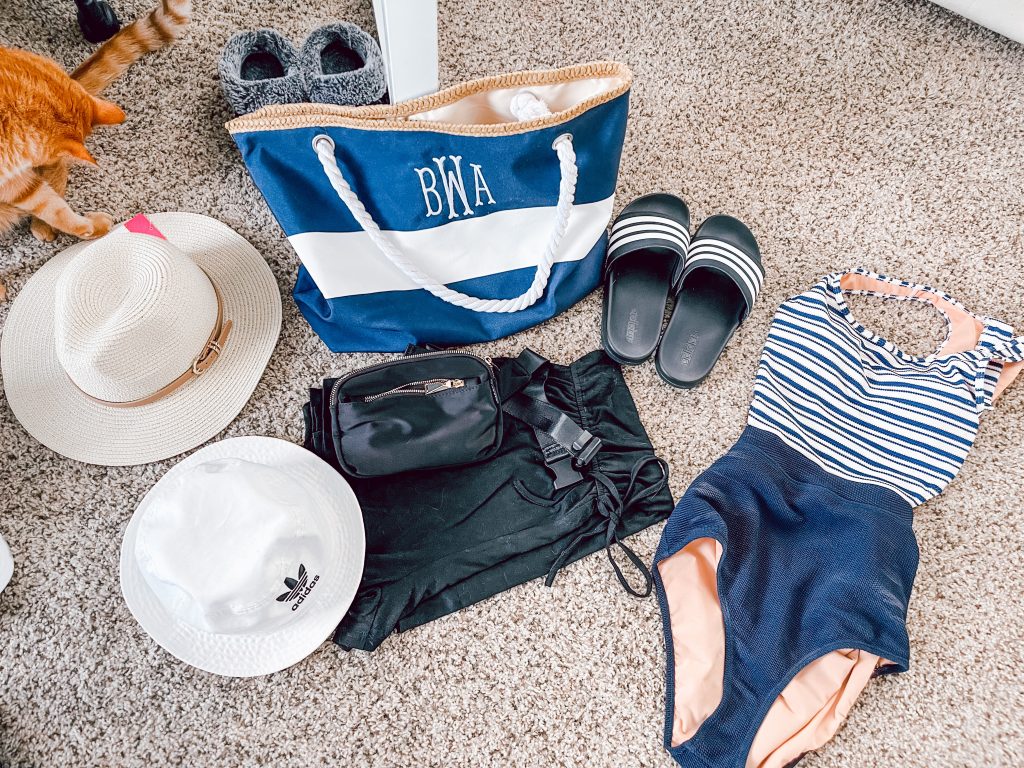 Alright, I'll stop chatting your ears off about packing, and let's chat about something more fun, my summer essentials! This summer, I prepared myself with some SUPER CUTE pieces that you will definitely want poolside or for those beach days.
Customized Tote Bag – how cute is this bag?! Comes in a pink/white stripes and tie-dye color. It fits quite a bit in there, so it's perfecting for packing those snacks and suits and everything for the pool/beach.
Fedora Hat – perfect for keeping the sun out of your face and pairs with a cute, casual outfit.
Adidas Bucket Hat – another great option for keeping the sun out of your face but, definitely more suitable for running around with the kiddos.
Fanny Pack – this is probably my favorite fanny pack I own. It has 3 different slots for your phone, keys, wallet, chapstick, etc. It comes in multiple colors.
Black Romper – you wanna talk about soft?! This one is sooo comfortable and it's the perfect swimsuit cover up. You can wear it off the shoulder if you wish or on both shoulders. It comes in multiple colors and fits true to size.
Blue and White Striped, One-Piece Swimsuit – I loveeeee this suit. It looks like a one-piece in the front and looks like a two-piece in the back. There are sooo many different colors and prints, it's unreal. It definitely fits true to size, and has removable padding.
Oh, and one more thing… DON'T FORGET YOUR SUNSCREEN!! 🙂