Hey hey hey! It's almost that time of year again… to get your list together of everyone you want to get gifts for this year.
For those of you with friends that love their kitchen, or even you yourself love your kitchen, you'll wanna keep scrolling. I have put together this gift guide for you of everything that you or your friends may want to have in your kitchen. From organizational stuff to appliances, there is something for everyone.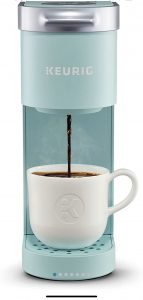 Single-Cup Keurig
This would be perfect for your desk or for those non-coffee drinkers (like myself) that maybe have a cup of coffee or hot chocolate every now and again. It comes in lots of different colors. It's on sale for 25% off, which is awesome!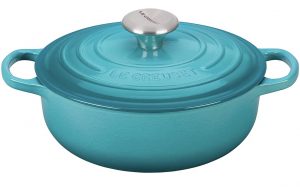 Le Creuset Enameled Cast Iron Signature Sauteuse Oven
Great for baked pasta dishes, braised poultry, small-batch soups, etc. It comes in lots of different colors. It's on sale for 40% off.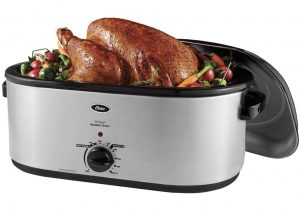 Roaster Oven w/Self-Basting Lid
Perfect for baking, cooking, roasting, steaming. slow cooking, etc., lots of different meats, veggies, and stews.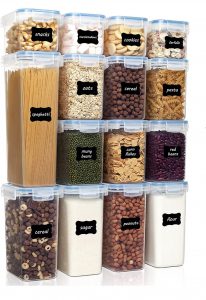 15 Piece Food Storage Container Set w/Lids
It comes in lots of different sizes, and the lid colors come in blue and black!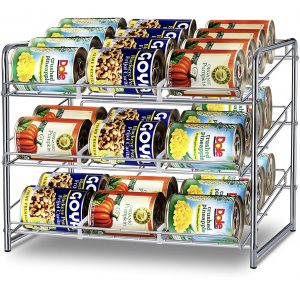 Can Rack Organizer
It holds up to 36 cans in your pantry or kitchen cabinet. Also, comes in 4 different colors.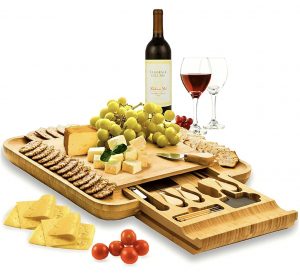 Charcuterie Board
Perfect for hosting parties, wine night with the girls, or just a date night in with you and your significant other. You could do a cheese board or a dessert board. It also comes with a knife set underneath it. And the best part, it's on sale for 30% off.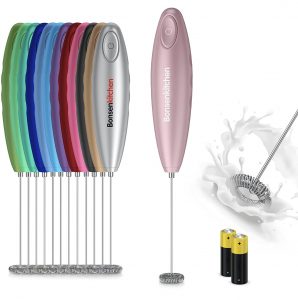 Milk Frother
Perfect getting a nice, foamy cream for the top of your coffee. As you can see, it comes in lots of different colors, and it's battery powered.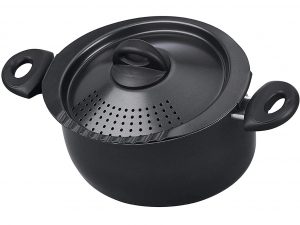 Pasta Pot w/Strainer Lid
This is definitely on my christmas list because we are a big pasta family over here and it would literally make my life so much easier and it would be one less thing to clean. It comes in multiple colors.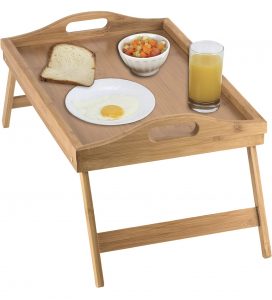 Bed Tray Table
This would be perfect for if you want to surprise your significant other with breakfast in bed or if you are under the weather and can't get out of bed for lunch. And another small perk, it's on sale for 5% off.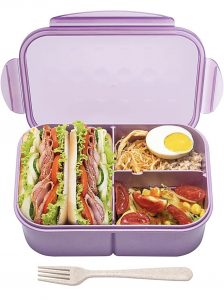 Bento Box
This is another thing I have on my Christmas list. I pack my lunch when I go to the office and I would love to have something that will keep my sandwiches from getting smooshed in the plastic ziplock baggy. How cool that it comes with a fork too! It comes in multiple colors and 2 different sizes. 
4-in-1 Indoor Grill & Electric Griddle
If you live in an apartment where you can't have a grill or if you just simply don't have enough room for a grill, this is perfect for you. You could whip up some delicious burger and still get that grill effect. Also, on sale for 25% off.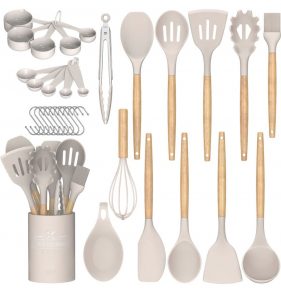 33 Piece Cooking Utensil Set
I'm in desperate need of some new cooking utensils. I don't even have all the utensils that are in the set so I am definitely ready for an upgrade. They have silicone heads with a wood handle, and they come in multiple colors.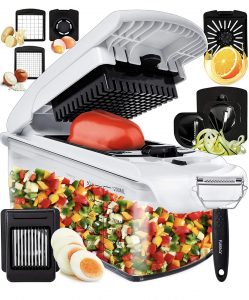 Veggie Chopper
We have one very similar to this and absolutely love it. It is definitely a game changer and time saver when you have lots of veggies to cut up for a meal. We have a family recipe for our chili that we make and it calls for quite a bit of veggies and this chopper cut down the prep time significantly. Can't rave about this enough. This one comes with more attachments/accessories than ours did.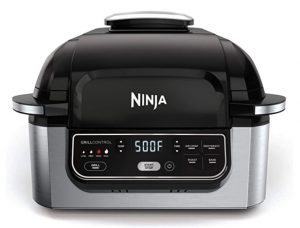 Ninja Foodi Grill (5-in-1)
Alright you guys! Hear me out. I know what you're thinking… that thing is expensive. Yes, I understand that but you would not BELIEVE how fantastic this thing is. It makes cooking dinners during the week much more enjoyable since I just have to throw everything in it, and let it do its thing. And it cooks everything super fast. Trust me, it's a splurge, yes, but it's an investment. You will get your moneys worth with this thing.